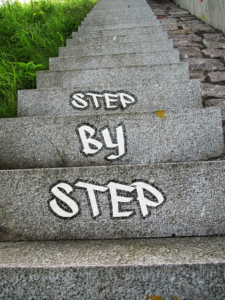 There is so much information out there about taking the IELTS test and developing your language skills.  An overwhelming amount of information.  It can take months or even years to go through it all and to figure out what works for you!  What if there was a way that you could get focused training to hone in on the language skills that you need?  What if there was a way for you to have materials, advice, and tips presented to you that have been proven to really work?  What if you could complete this training and be totally prepared to conquer the IELTS in a matter of weeks-not months or years?
You can!  With our step by step learning programme all of this is possible and within your grasp.  We are committed to helping people just like you transform their lives by passing the IELTS, and that is why we developed this tried and true programme.  We designed this programme to teach you only the best and most effective IELTS techniques that really work.  We have decades of experience behind us working with students and as an IELTS examiner so we know exactly what will help you be successful, and that's what we want for you, to get the band you want the very first time that you take that test.
This programme provides you with 12 weeks of specially designed and focused lessons.  Each day focuses on a specific aspect of the exam and provides you with loads of tips and techniques that you can use to achieve the band that you want.  Then, you will be given practice questions which test the technique that you just learned to ensure that you have a firm and lasting grasp of that aspect of the exam.  All of this alone will get you prepared for success on the IELTS, but we didn't stop there!  There are more resources that we want you to have so that you can do even better than you ever imagined you could do!  With this programme you will also get access to a series of six webinar videos packed full of more tips and hints, access to an exclusive FaceBook group where you can interact with other students and teachers to ask questions and get advice, and you will also receive a year's subscription to Gapfillers where you will receive access to over 8000 pages of English language exercises and be able to find an English language speaking and writing buddy for more practice.
This is the programme that you need to turn your IELTS dreams into reality, NOW.  We are confident that this step by step learning programme will work for you, and if you get into the programme and still feel like you are struggling then contact us and we will figure out what is holding you back.  With this programme there is no way you can't win!
Click here to sign up for this life changing programme today.  For more information, click here.
See our other programs, tips, and one on one coaching opportunities that we are pleased to provide.
Leave a Facebook Comment
comments