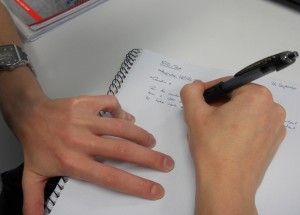 Task 1 is sometimes given less attention because students are often more concerned about Task 2. It is true that Task 1 is shorter and slightly more straightforward and that task 2 carries more marks but Task 1 is just as important and it is your first piece (normally) of writing that the examiner sees. As such, this task will give the examiner their first impression of your ability in English writing and you really want this impression to be a good one.
Task 1, whether Academic or General, is a more practical piece of writing than Task 2. This means that you need a more objective style of writing. Here you are not being asked for your opinion or ideas.
You are either being asked to describe something or to write a letter to achieve a certain result.
Let us first look at Task 1 Academic:
Here are the things that you really need to make sure you know for Task 1 Academic:
Know your number vocabulary – you are more likely to get a data question than any other and having a good range of vocabulary for describing numbers is vital
Make sure you understand which words and phrases can be used with the different types of data – bar charts and pie charts are static and do not show movement whereas line graphs do – e.g. a word like 'fluctuate' shows movement so would be appropriate for a bar or pie chart
Be clear about how to analyse the data and select what you want to write about – usually this will be the highest figures, the lowest figures and anything that is significant or unusual
Decide how you will organise this information into 2 paragraphs – if you have analysed well this should be obvious – look for things in common or ways in which groups can be formed
You don't have to mention everything – there are only 150 words
Try to write 150 to 180 words – the more you write the more time is taken away from checking your work and planning and writing Task 2 – also, the more you write the higher the chance of making errors so keep to the word limit
Don't forget about process and map description these questions do appear on the exams
A process is a logical description of how something is made or works – think about describing a common process like cooking a particular dish or logging on to the internet – how would you describe this and then apply this to the task – don't forget the relevant vocabulary for moving from one stage to the next – firstly, next, after that etc..
A map description will require use of tenses – think about the chronology of the changes what happens and when
Try to find examples of this kind of writing – look at the business pages of newspapers for data, 'how to..' information (on the internet) for process and Historical Timelines for describing map changes all of these will help you with the correct vocabulary
Now we'll consider Task 1 General:
Here are some things that will help you to create a really good letter:
Firstly, try and imagine that this is a real situation and that you HAVE to write this letter – imagine people you know who might be involved. If it seems real then you'll approach the task better
For a band 7 in the letter you will still need to fulfil all the band descriptors so think carefully about the vocabulary and language you will use
Make sure you understand the difference between formal. Semi-formal and informal letters – knowing this helps you to choose appropriate language and vocabulary
Letters are always written to achieve an aim – what is the aim in your letter? What do expect the other person to do as a result of receiving it? Make sure you write your letter so that you will get that result
Think about register (formal/informal) if you are writing to a friend you will not use the same language as writing to a bank manager BUT if you are asking a friend to do something special (look after your dog or send you some books for example) you need for ask in such a way that you appreciate what they will do and make them want to help you – we do this by being very polite; could/I wonder if you'd mind etc..
Don't forget to plan your letter – how many points do you need to make – the question will tell you this. Which points will be in which paragraph?
And like the academic task 1 keep to the word count (150 to 180 maximum) for the same reasons
There are lots of sources of letters online – look in newspapers (you can find these online) for letters to the editor check out the language and use this in your own letters – using real examples will help you to improve your language and your writing more than just looking at IELTS examples and your friend's attempts.
This is just a sampling of what you get in my

IELTS Success System

online study programme

.

In this programme you can find lots more help and exercises, daily emails for practice and access to hundreds of tools and audios.
Leave a Facebook Comment
comments
4 Responses to IELTS essay tips for Task 1